The Think Open is essentially an open-top version of the Think City. At the moment, this car is just a concept vehicle, however we can see it coming to fruition soon… Unlike most open top cars, with the Think Open, you can actually hear everything going on around you rather than listening to your petrol engine polluting the environment!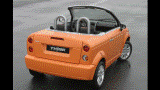 It might not quite be as appealing as the Tesla Roadster, but the Think Open actually looks like a pretty nice and cool electric car. Compare the image
of the Think Open with something like the Reva G-Wiz and its got to rise pretty high on the list!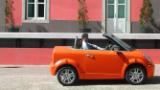 So, the Think Open is basically the open-top design of the THiNK City, it has all the same technical specifications and comfort and convenience features. It will be interesting to see if it catches on with the British weather though!!. The Open completes the Th!nk range complementing the standard city run about – the City and the more family, estate orientated larger Ox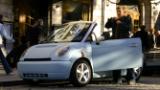 The Th!nk Open is a 2-seater electric vehicle has a top speed 100km/h, and accelerates from 0-50km/h in 6.5 seconds. A typical charge time, with
standard electric socket 0-100% SOC (state of charge) is approximately 10 hours at 230VAC / 14A. For recharge at 20-80% SOC (state of charge) it is around 8 hours. The car has a range of about 170km with heater off, and around 90 km with the heater on so driving in cold weather may be an issue!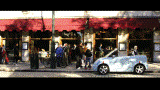 Think Open – Top Trumps Stats
Manufacturer: Think
Availability: Since 2012
Top Speed: 60
Acceleration: 0-30 mph in 6.5secs
Range (max): 105