Stevens are a relatively new British manufacturer.  Stevens Vehicles Ltd are a small family father and son team – Tony and Peter Stevens.  Tony has adapted his work on low cost vehicles for customers in developing nations and applied this to zero emission electric vehicles in the UK.  The company makes an electric car – the ZeCar and an electric van – the ZeVan.  Perhaps more than any other electric car company, Stevens has really embraced the full – 'well to wheel' approach and considered the environment at every stage.  In addition, these electric vehicles are designed and made in the UK.
ZeCar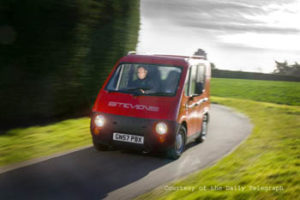 The ZeCar® is titled as 'a great city run about'. It is one of the larger electric cars available – 5 doors and seating for up to 5 with space for luggage or shopping. It is not one of the prettier electric cars available but it is a good effort by a UK-based company which has a really strong environmental drive behind the whole design and delivery.
ZeVan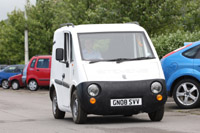 The ZeVan® is the commercial offering from Stevens. It is based on the same design as ZeCar and the 2 vehicles look incredibly similar. The Ze concept perhaps works better as an electric van from a looks point of view and offers some interesting potential at the compact end of the commercial vehicle market.