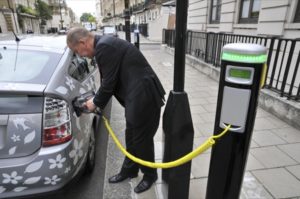 How to Charge an Electric Car
In most cases electric vehicles can be charged from a standard electric socket, so businesses or individuals recharge them at their own premises and homes.
However, there is also a growing network of public and private electric car charging points. At the moment, many public charging points are free. This will change but it will most likely move towards the charging network model. There are already a number of charging networks accompanied by electric car charging schemes, where for a small subscription to the charging scheme, you get access to a network of charging points, a range of perks (charging cable, free parking in certain areas, points etc) but you do pay for the electricity you use. At the moment, these networks only really offer comprehensive coverage in London but this is changing (see our page on these electric car charging schemes) due to the Governments Plugged-in-Places scheme.
Wouldn't it be great if electricity points were as common as petrol stations? Well, in major cities in the UK this is the way it is heading.
Electric Car Charging Posts
The electric car charging post market is rapidly developing with new companies and products coming to the market almost every few months. The basic technology has become established – a secure post with one socket, accessed by an electronic tag. However, variations on this are springing up. Charging posts for 2 cars, quick charging, different outputs, electronic displays, consumption monitoring software etc.
Electromotive
By far the most common public charging points are 'Elektrobays'. They are basically shoulder high posts with a plug socket mounted near the top. The bays have a yellow coiled power lead which will supply 240 volts AC at 13 amps. This is compatible with most electric vehicles.
They are suitable for installation indoors or out in the street and are supplied by a company called Elektromotive. The socket has a cover which is unlocked and opened by an RFID (radio-frequency identification) tag. This will be kept somewhere near the charging bay usually by a car park attendent or by shopping centre facilities management etc. In return for the tag you may be required to show some form of ID and / or leave a deposit.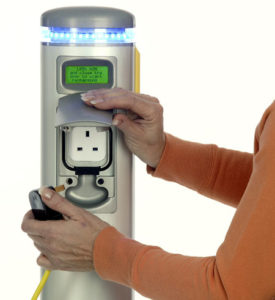 POD Point
Hot on their heels however is the new 'POD point'. These are compatible with existing electric car charging tags.
You swipe the tag, open the socket, plug in and charge. You use your own cable for these charging points.
All POD points are wirelessly connected to a central communications network so usage and availability is monitored in real time and you have a linked online account.
Although focussed in London, POD points are available throughout the UK notably in Ireland and Scotland.
Chargemaster – Also on the UK scene is Chargemaster with their range of charging posts: fastcharge (twice the electric car charging speed of a standard post); homecharge (easy home driveway installation and automatically uses low-cost night-time electricity tariffs ); combicharge (capacity to charge at both 3kw (13A) and 7kw (32A); and dualcharge (can charge two electric cars simultaneously). The company is also getting involved in electric car charging schemes.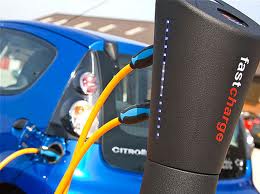 APT – APT Technologies
They have also entered the electric car charging market with their evolt on-street chargers. Like all charging posts they are designed against potential vandalism and are fully compliant with all electrical security regulations.
Easy to use and equipped with a simple secure access system. There is the single charge, dual charge (for 2 electric cars to charge simultaneously) and the evolt Xpress for faster charging.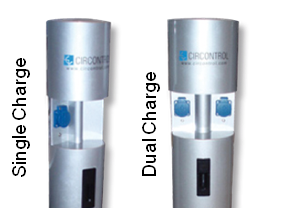 Charging Centre – Charging Solutions Ltd
Another new entry to the electric car charging market. They claim this charging system is future proof as it can incorporate all types of EV sockets and modular design allows easy assembly / disassembly. An LED ring lights up to display the status of the chargingcentre and imilar to all the other offerings it can be fitted with various control, access, or payment systems. The charging system does come with flexible mounting – a pole, wall bracket or surface mounting which should be good for different users . Available in standard Green but also Blue, Silver, Grey, Yellow or Orange.
Wallpod
The Rolec WallPod has been designed to offer its own unique flexiblity. Simply fix a WallPod to your wall or a mounting post and insert the pods to suit your electric vehicle. If and when you change your vehicle to a next generation model, you can simply change your pod to suit. It's simple and cost effective.
The WallPod has been designed to be compatible with all leading electric vehicles and is able to offer all types and modes of charging from simple type 1 charging in association with mode 2 power cables through to J1772 or IEC62196 direct connection and mode 3 communications
The WallPod for home use is available with 13amp, 16amp and 32amp charging outputs. The charging cable & plug can be locked to the wallpod unit or the vehicle charge point.