Every couple of years the electriccarsite team review developments in the electric car industry and try to recognise those who have made positive contributions. Details of the award categories and winners for the particular year 2009 are given below:
2009 Awards – Categories and Winners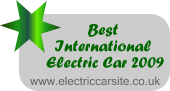 Best International Electric Car 2009 – Tesla Roadster
This award is open to all electric cars throughout the world, so they can have been dreamt up in India manufacturered in Spain and then sold in the UK, it doesn't matter this category is open to all. Despite having been around for a couple of years (a long time in the electric car world) we think that the Tesla Roadster is still a fantastic ambassador for the industry. It looks and performs better than many of it's fossil fuel contemporaries, okay you will pay for it but this is the hollywood star of electric cars.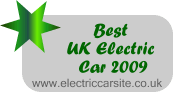 Best UK Electric Car 2009 – Stevens ZeCar
This award is open to electric cars which have actually been designed, manufactured and sold in the UK. Ok, so at the moment, that means the potential candidates are few and far between but we think it is important to regonise home grown efforts in the industry. This years winner is the Stevens ZeCar. For father and son team Tony and Peter Stevens this is not just about electric power, their whole philosphy is centred on a low environmental impact.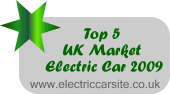 Top 5 UK Market Electric Cars 2009
Mega City
Reva G-Wiz
Quiet Car 1
Sakura Maranello
Citreon Ev'ie
This award recognises the top 5 electric cars currently available to buy in the UK. The cars have been judged on a variety of aspects including specification (top speed, range etc), charging times, design and cost. So we've got everything from the simple but practical and cheap G-Wiz and Sakura Maranello, through mid price cars with a bit more space, style or va, va, voom like the Nice Mega City or the Quiet Car 1 up to the very stylish Citreon Evie.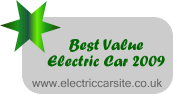 Best value Electric Car 2009 – Quiet Car 2
This award goes to the electric car which we think represents the best value for money. Ok, it might be not be the obvious choice (it isn't the cheapest) but best value is about other things. We think the Quiet Car 2 combines a reasonable cost with decent range, top speed, size, usability and looks. The charge time makes this a particularly attractive offer.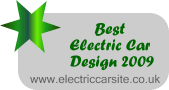 Best Electric Car Design 2009 – Nice MyCar
This award is completely subjective and is based on what the electriccarsite team like the look of! This years winner is the funky and stylish Italian – Nice MyCar.
Best Electric Car Technology 2009 – Electromotiv Elecktrobay
This award recognises technological developments in the electric car industry other than electric cars themselves e.g. infrastructure, process, components etc. The winner in 2009 goes to the team at Electromotiv for their Elecktrobay.