The CABLED Project has been wrestling with the issue of electric vehicle viability and the results of the 'Largest 'Real World' Electric Vehicle Trial' are now in, after a year. The full CABLED press release is copied below, see what you make of it.
Perhaps unsurprisingly the trial shows that electric cars are a good and viable urban option in terms of usability for the typical journeys undertaken (frequent but short and relatively low speed). Urban infrastructure services the needs of electric car users well with the potential availability of dedicated charging points as well as never being too far from a normal plug socket should you need it! However it is good to have data to actually confirm this.
We clearly still need to grapple with the energy generation side of things. As much effort needs to be put into renewable energy generation not just for electric vehicles but for much more of our energy demands as is being thrown at developing the vehicles. There are local solutions such as the eTap out there although as always, costs and benefits need considered (and we're waiting to see how this particular charging station works out) but this needs to be environmental costs as well as economic ones. The data on patterns of use is interesting and as highlighted smart grids will be key to maximising the potential of electric vehicles.


Having collated and analysed a full 12 months of data from electric vehicle (EV) users, CABLED – the UK's largest study into long-term low carbon vehicle use – reveals:
•Why EVs are a viable urban transport solution
•The implications of habitual charging behaviour
•Patterns of energy use during the trial's 147,000 mile study
As the largest of eight public trials taking part in The Technology Strategy Board's £25m Ultra Low Carbon Vehicle Demonstrator programme, CABLED (Coventry and Birmingham Low Emission Demonstrators) has now collected robust data that can be used to support future decisions relating to transport and infrastructure planning.
The data, taken from 25 Mitsubishi i-MiEVs and 20 smart fortwo electric drives during the course of the trial, shows that in spite of initial scepticism surrounding the capability of EVs and concerns over range anxiety, they are more than capable of meeting the needs of drivers that require efficient urban transportation.
This is reflected by the finding that most journeys undertaken (77%) lasted less than 20 minutes and only 2% used more than 50% of the battery – enabling a return journey to be made without the need for recharging in the majority of cases. The data also showed a trend towards drivers travelling longer journeys over time – indicating increased confidence and reduced range anxiety.
Project Leader Neil Butcher from co-ordinating CABLED partner Arup believes the data presents a positive outlook for EVs: "These findings form part of the largest study of low carbon vehicle use ever compiled and, whilst our study is on-going, it's already clear that EVs offer a viable, practical urban transport solution. We must now consider how our homes, offices and public spaces will need to evolve in order to cater to both users' needs and the rapidly developing technologies powering these vehicles."
In relation to charging behaviour, the CABLED data clearly shows that EV users are not motivated to replenish their vehicle's battery by reaching a particular point of depletion; rather they are driven by convenience and with data showing the vehicles are parked for 97.2% of the time (23.3 hours each day) it is apparent that there is ample opportunity for them to be plugged-in.
The most popular point at which people commenced charging was when the battery had between 81-87% of its charge remaining. With the majority of journey's using less than 2kWh of power (around 12% of charge) this behaviour indicates that charging habitually takes place upon reaching a destination.
The average charge time was between 2-3 hours (typically equivalent to half of a full charge) with an energy transfer of 6kWh costing around 60-80p depending upon tariff (equivalent to one load in a washer dryer). Peaks for charging were observed from 7-9am and from 6-7pm, which can be most likely attributed to charging on arrival at work in the morning or home in the evening. Another peak was seen after 11pm when CABLED participants used timers to take advantage of off-peak energy tariffs.
Charging data such as this helps inform the development of energy infrastructure and Smart Grid technology, as Head of E-Mobility R&D at E.ON Charles Bradshaw-Smith explains: "Meters installed at each user's home are giving us invaluable information on charging behaviour. The most popular time to charge a vehicle is rightly overnight. But as most journeys are relatively short (with five average journeys per charge) this allows scope for exactly when the car is charged each night to minimise cost and maximise carbon savings. Such evidence supports the need for automated intelligent charging technology that will allow EVs to interact with the distribution grid – an area in which E.ON is researching into.
"The ultimate goal is to allow drivers to take advantage of low cost power due to EVs both drawing and feeding into the grid to smooth demand peaks and save carbon."
CABLED is one of several Government measures designed to increase the number of low carbon vehicles on Britain's roads and reflecting on these findings Mitsubishi Motors' in the UK managing director, Lance Bradley added: "It's very encouraging to see this statistical evidence from the CABLED trial. It clearly backs up our own experience and studies in Japan that people adapt very quickly to driving a pure- EV, such as the Mitsubishi i-MiEV. To know that people complete up to five normal journeys per charge, and at such a low cost, underlines the fact that EVs are here to stay and can find mass-market appeal.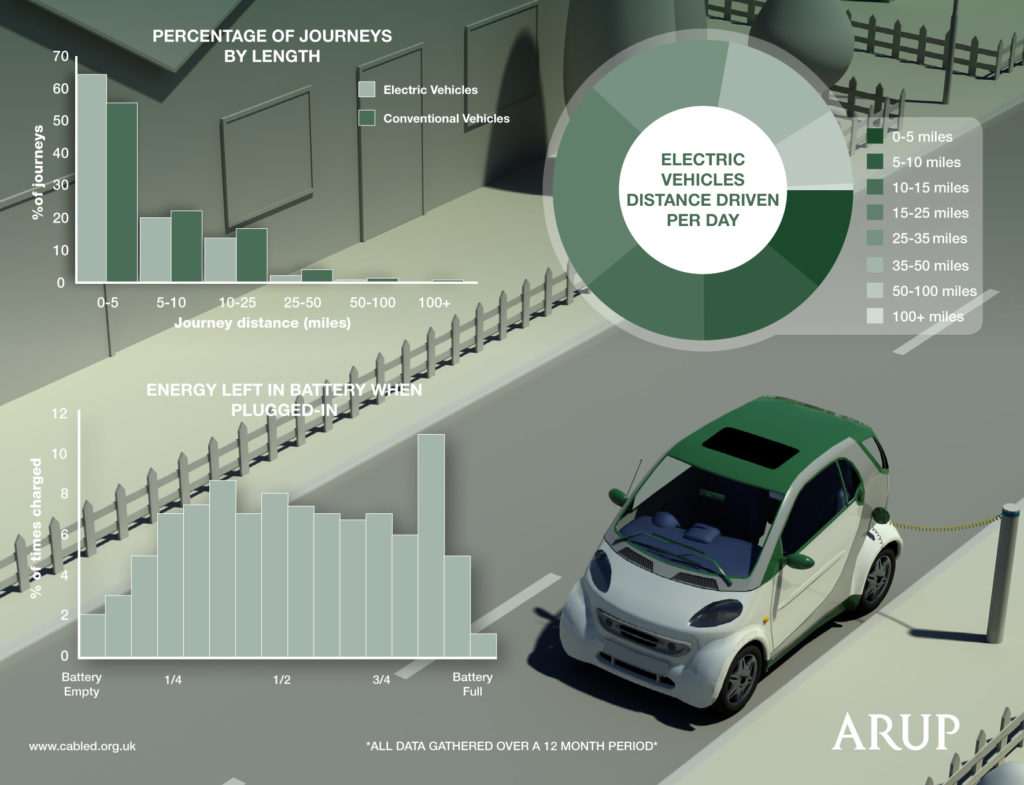 "Mitsubishi's new range of plug-in hybrid vehicles and our on-going development of pure-EVs will also help establish electric powertrains in the broader UK market, and go a long way to reducing automotive CO2 emissions."
Brian Price from Aston University, which was responsible for analysing the data obtained from each vehicles on-board telemetry commented: "Through satellite tracking and on-board telemetry, we have been able to monitor real-world usage of the latest ultra-low carbon vehicles technologies on an unprecedented scale.
"Journey data over the first 18 months of the trial shows us that the battery range of electric vehicles (EV's) more than covers most users' needs, with most drivers finishing their daily journeys still with over 40% charge remaining. Typical users only need to recharge every 2-3 days and choose the convenience of a home charge overnight or at their place of work over 85% of the time.
"Public charging points provided as part of the trial are proving popular, but less necessary than originally thought, as users gain confidence in the range capability of the vehicles. The trial has shown that the current generation of low carbon vehicles are as capable as conventional diesel and petrol engines for performance and ease of use, whilst having significantly lower emissions and operating costs."