The Vauxhall Ampera is General Motors European version of the popular Chevrolet Volt. Delivered under the Opel brand. It won Car of the Year 2012 but it is in fact a hybrid and not a true electric vehicle as it still has a petrol engine. This is what is termed in the industry as an E-REV (extended range electric vehicle).
The Ampera only functions as a full electric vehicle for short distances – up to 40 miles. So would be very fuel efficient for a short commute. It can then also perform as a normal car for much longer journeys. This is seen as solving many of the issues and the reasons people are put off chossing an electric car. With the petrol engine, range anxiety and knowing where the next electric car charging point is no longer crucial.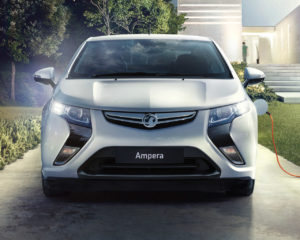 As the Vauxhall Ampera is not solely electric, other aspects of the specification are better, not just the range. The performance, acceleration etc. It also has regenerative braking to create further charge to the battery. The Ampera is however, not cheap. A retail price of £38,995 this puts it in the same bracket as a mid range BMW, Alfa Romeo or Audi. The Ampera does qualify for the Government £5,000 Grant but that's stil a hefty £33k price tag.
The Ampera is a good looking car. It's not fair to compare it's stats to that of pure electric vehicles however. Hopefully the E-REV is a useful stepping stone to true zero emissions driving.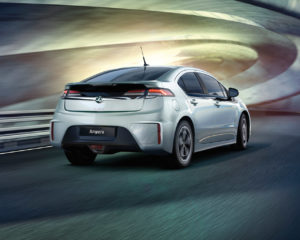 Vauxhall Ampera – Top Trumps Stats
Manufacturer:
Availability: Now
Top Speed: 120
Acceleration: 0-60pmh in 8secs
Range (max): 40