The Tazzari Zero is a compact two-seat vehicle. Similar to the G-Wiz L-ion the Zero is powered by lithium-ion batteries. This gives the car a range (between charges) of around 140km or about 87 miles. The car has an electronically capped top speed of around 100 km/h (62mph) with acceleration from zero to 50km/h (31mph) in less than five seconds.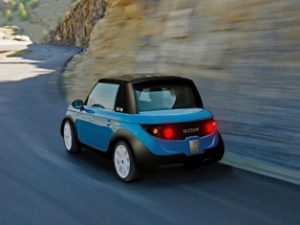 The Zero is therefore not really for your long distance journeys. It is an urban-focused electric car for those who want to look good as they cruise about town. Tazzari are an Italian firm with a background in aluminium casting. Unsurprisingly, the Zero makes substantial use of aluminium in its construction. This provides a light and strong frame. Including the 142kg battery pack, the Zero weighs under 550kg!
One thing to note however, unlike other electric vehiclest, the Zero has been built to fit within European quadricycle rules, rather than the full-blown passenger car regulations. Quadricycles are not required to pass crash tests or meet certain other safety regulations. This Quadricycle classification means the Zero is also unlikely to qualify for the Government's £5,000 electric vehicle grant.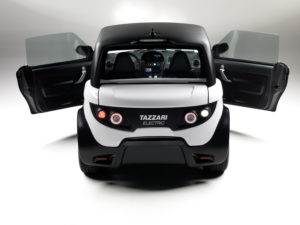 The UK on-the-road price for the Zero including batteries is £21,500 which is quite steep. For an extra £2K (because of the electric vehicle grant) you could get a Nissan Leaf or Mitsubishi i-MiEV which are bigger slightly higher spec. electric vehicles but it does depend on what you are after from your EV.
The Tazzari Zero had its world premiere at the International Motor Show in Bologna, Italy at the end of 2009. It had quite a bit of hype surrounding it – not least because they came out claiming a charge up time of 45 minutes which later turned out to be the usual 8+ hours if using a conventional power supply. Oh well, this is still a cool looking addition to the UK electric car scene.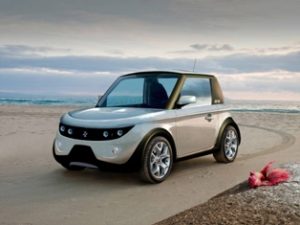 The Tazzari Zero has a great image and is a real change to the usually slightly drab and geeky image of small electric cars. This car will appeal to many who wouldn't look twice at some of the original EV offerings. The only thing we're not so sure about is the interior – ! Have a look at the image below and let us know what you think!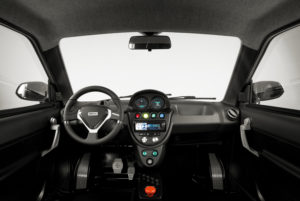 Tazzari Zero – Top Trumps Stats
Manufacturer: Tazzari
Availability: Now
Top Speed: 62
Acceleration: 0-30mph in <5secs
Range (max): 87