Reva are the Indian company who came up with the G-Wiz.  In the UK, a company called GoinGreen has made an excellent job of introducing the G-Wiz to the London market.  Re-charging points have been cropping up around the city and the G-Wiz has become the poster child for electric cars in Britain.  We just wonder whether Reva, GoinGreen, and the G-Wiz will be able to compete with the likes of Think, NICE, and ultimately Tesla as the electric car market gathers pace over the next few years.
G-wiz
The Reva G-Wiz is the most established electric car in the UK and is currently leading the pack but competition is growing rapidly with competitors such as the Think City, Mega City and Quiet Car1. It is only designed for driving at slow speeds in cities and is a bit odd looking.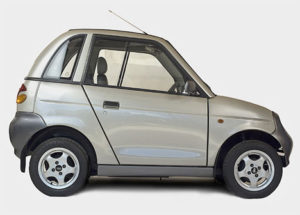 G-Wiz L-ion
The G-Wiz L-ion was released in the UK in 2009. Reva are using the same retailer – GoinGreen. This is one of the first mainstream electric vehicle to be powered by Lithium-ion batteries a technology which significantly extends the charge and range of the car. The top speed is till the same as the G-Wiz but the range is almost doubled to 75 miles.