So what to Mitsubishi say about the i-MiEV…… "A green, sustainable lifestyle is on the horizon. i-MiEV takes you there."
Whilst having been tested in the UK in 2009,  with electric car trials by the police and west midlands council, the Mitsubishi i-MiEV is now on sale to the general public.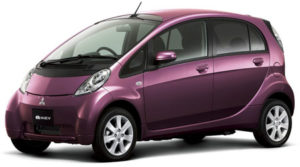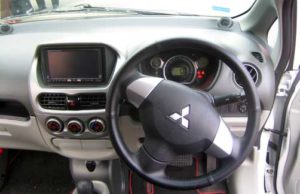 Mitsubishi are working with Pure EV Dealerships to deliver the i-MiEV.
The i-MiEV looks quite different to the Leaf, but also pretty different from standard Mitsubishi offerings. It has a slightly 'people carrier' look to it and can accommodate 4 people comfortably which not all electric cars can say. We quite like the wide view windscreen and curvy shape will be very appealing to some.
Testing the i-MiEV against typical UK urban usage, Mitsubishi say that it:
Costs just £270 to charge for 12,000 miles driving (£2.09 per full charge based on an average of 10p per kWh). If you are using the Economy7 tariff then the cost for 12,000 miles could be as little as £135 (£1.05 per full charge based on an average of 5p per kWh)
Low servicing costs and downtime – only 4 major working parts compared to over 300 in a typical internal combustion engine
The i-MiEV Mitsubishi Service Plan (MSP) covers the first three years servicing at a cost of just £300
Servicing carried out by any one of Mitsubishi's 133 service dealers
Exempt from road tax
First year capital allowances for fleet vehicles
Zero benefit-in-kind company car tax
Exempt from London Congestion Charge
Free parking in some London boroughs and cities such as Milton Keynes
5 year battery warranty and 3 year vehicle warranty
Mitsubishi i-MiEV – Top Trumps Stats
Manufacturer:
Availability: Now
Top Speed: 81
Acceleration: 0-60pmh in 15.9 secs
Range (max): 93
Hertz and the Mitsubishi i-MiEV
Electric Car Hire
Hertz have announced few years ago a partnership with Mitsubishi and they have added the Mitsubishi i-MiEV to their fleet of hire cars and to their car sharing club Connect in the uk.
Advantages of the partnership
16 dedicate charging stations will be available across central and greater London for Hertz customers and those in the Connect car share.
All Hertz customers will also be able to access Source London's planned public charging points.
A pilot programme means that PwC employees will soon be able to use electric vehicles on an hourly usage basis as part of the firm's sustainability and travel strategy.
Hertz also promise seamless integration between the cars' NeverLost system and the London charging points so customers can check availability as well as location.