To create the ev'ie, Citroen have taken the established C1 model and added a battery with help from the Electric Car Company (ECC) based in the UK to create a new electric car. This was launched onto the streets of London in April 2009. Essentially Citroen send a 'donor' C1 over to the UK where the electric components are assembled and added. ECC are aiming to produce some 500 C1 ev'ies over the coming year. ECC work with a customer to spec the ev'ie e.g. 3 or 5 door.
The ev'ive has all the gadgets of the standard Citroen C1 – central locking, air conditioning, CD player etc and by all accounts it's
like a fairly normal car to drive (although alot quieter).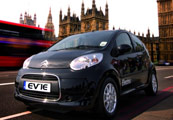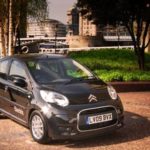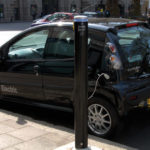 The Ev'ie looks like a regular car because on the outside (and much of the inside), it is a regular car! This is a nice looking 4 seater car with a better than average performance for an electric car. We reckon interest in this will be high.
The Evie looks good and still has the same cheap running costs as all the other electric cars out there (a 'tank' of electricity will take you around 70miles for about 90p).
However, one problem with making it so similar to its carbon fuel based twin, the ordinary C1, is it makes the price difference that little bit more obvious. A standard C1 will only set you back around £10K, a whole £7,000 less.
Related data:
Citroen Evie – Top Trumps Stats
Manufacturer: Citroen
Availability: Now
Top Speed: 60
Acceleration:
Range (max): 70
Max Charge Time:
Price: 16850