So what to Mitsubishi say about the i-MiEV…… « A green, sustainable lifestyle is on the horizon. i-MiEV takes you there. »
Whilst having been tested in the UK in 2009,  with electric car trials by the police and west midlands council, the Mitsubishi i-MiEV is now on sale to the general public.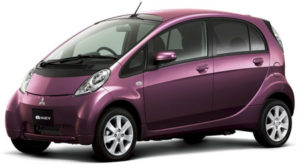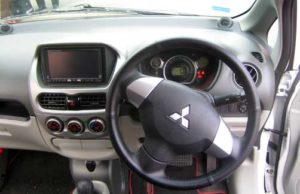 Mitsubishi are working with Pure EV Dealerships to deliver the i-MiEV.
The i-MiEV looks quite different to the Leaf, but also pretty different from standard Mitsubishi offerings. It has a slightly 'people carrier' look to it and can accommodate 4 people comfortably which not all electric cars can say. We quite like the wide view windscreen and curvy shape will be very appealing to some.
Testing the i-MiEV against typical UK urban usage, Mitsubishi say that it:
Costs just £270 to charge for 12,000 miles driving (£2.09 per full charge based on an average of 10p per kWh). If you are using the Economy7 tariff then the cost for 12,000 miles could be as little as £135 (£1.05 per full charge based on an average of 5p per kWh)
Low servicing costs and downtime – only 4 major working parts compared to over 300 in a typical internal combustion engine
The i-MiEV Mitsubishi Service Plan (MSP) covers the first three years servicing at a cost of just £300
Servicing carried out by any one of Mitsubishi's 133 service dealers
Exempt from road tax
First year capital allowances for fleet vehicles
Zero benefit-in-kind company car tax
Exempt from London Congestion Charge
Free parking in some London boroughs and cities such as Milton Keynes
5 year battery warranty and 3 year vehicle warranty
Mitsubishi i-MiEV – Top Trumps Stats
Manufacturer:
Availability: Now
Top Speed: 81
Acceleration: 0-60pmh in 15.9 secs
Range (max): 93